Ordering
General
---
No sales or coupons? Say what?!@
Our goal is to give our customers a high-quality cable at a fair price. The price listed is the best we can offer for this quality, hand made in USA item. Creating coupon codes, adding sales, etc actually adds cost and creates frustration with users who feel taken advantage of, if they missed the sale. We hope you value our honesty and upfront pricing model. If we do have any B-Stock or clearance items, we will list them on our site.
---
What payments do you accept?
Currently we accept PayPal payments through our website, which allows you to pay via PayPal, Credit Card, Venmo, and other payment methods.
Even if you don't have a PayPal account, PayPal can process your credit card directly through their secure and convenient portal.
If you have any issues with payment via our PayPal portal, please reach out to us at support@audiophileninja.com .
---
I have an issue ordering or didn't get an order email. What do I do?
Please reach out to support@audiophileninja.com. Our team will be happy to help you get your order placed and answer any questions you may have.
Once your order is placed, you will receive an order notification. If you don't see one, check your Junk/SPAM folders first, in case your email was mis-routed. Also, be sure to add sales@audiophileninja.com to your email program's whitelist/safelist to ensure our emails get to your inbox.
You will also receive another email update when your order has been built and shipped. This email will include your tracking details.
---
How long does it take for my order to process?
Typically it takes 2-7 business days for processing, as each cable needs to be custom crafted and hand-tested by the Audiophile Ninja Team prior to shipping.
Please wait until the full processing time has passed before sending an email. The more emails we get asking 'where is my order', the longer it takes to get the orders done. We ninjas promise to work hard to build and ship out your custom cable as quickly as possible!
Once your order has shipped, you will receive a shipping notification with tracking details. If you don't see one, check your Junk/SPAM folders, in case your email was mis-routed. Also, be sure to add sales@audiophileninja.com to your email program's whitelist/safelist to ensure our emails get to your inbox.
Shipping seems to be taking forever!

Ugh!
Shipping channels have been disrupted lately, and there are delays everywhere, especially for international orders. While 99% of delivery is on-time, there is a small chance your package will be delayed.
You have the same visibility into the tracking as we do, and we have no magical access to the carrier's information.
If you are ordering internationally, please be aware and patient. International USPS First Class mail service usually takes as little as 2 weeks, BUT can be up to 4 months. It is the cheapest option, yes, but it is also the slowest. DHL/UPS is the fastest and most reliable carrier internationally. If you are not OK with the possibility of waiting up to 4 months, choose DHL/UPS.
If your USPS package is substantially delayed (at minimum 2 weeks in the US, 4 weeks internationally), reach out to support@audiophileninja.com, and we can create a ticket with the carrier to see if they can track it down. Only once the investigation is complete and the package is deemed lost, can we issue a refund.
We do all we can do build and ship your cables as quickly as humanly possible, and appreciate your patience should your cable be delayed due to unforeseen shipping circumstances.
To view our full shipping and return policy, please review our Terms and Conditions page here.
---
International (Import Duties, Customs Fees, Etc)
Buyers are responsible for any customs and import taxes that may apply in their country. Every country has differing laws, so please contact your governmental tax authority to assess what the applicable tax is for your country. We list the full value of the item on customs forms, as it is illegal to do so otherwise. No exceptions.
Audiophile Ninja is not responsible for delays due to customs.
---
Return Policy
All of our cables are custom made just for you. Please be sure to ask questions before you purchase, as returns are subject to a 15% restocking fee.
Should you wish to return your cable, you must do the following within 14 days of receipt:
Email support@audiophileninja.com to notify us of your intent to return, so we may create an RMA.
Products sent back without a valid RMA confirmation will not be refunded.
Once a return has been authorized, send back the product within 7 days.
Return package must have tracking.
All products must be returned in original condition and are subject to a restocking fee up to 15%, plus any loss in value due to damage.
Any shipping charges will not be refunded, and customer responsible for return shipping.
---
Why don't you use this particular wire or connector for your products?
There are countless approaches to design and manufacturing of any product. We chose our particular design due to the combination of quality of the parts, simplicity of manufacturing, and overall cost to build.
We promise solid designs based on tried and true electrical engineering principles and data. For our standard products, we don't like to increase our costs with exotic materials that are blessed by audio pixies and assembled by magic gnomes. We feel this does not add value to the product, and would only increase cost.
That being said, as we move forward, we will add new products based on feedback to better support our customers.
---
Why don't you make a compatible cable for 'this' headphone with 'that' connector?
In order to keep our manufacturing simple, we initially focused on a few key products that would be sustainable. As we grow, we will expand to other models to best support our customers. If there is a particular product you'd like to see, let us know! Send an email to support@audiophileninja.com and we will do all we can to incorporate into future product lines.
---
Left / Right Orientation on Dual Entry Cables
All of our cables cleverly utilize the Ninja logo on the splitter to identify L/R orientation. BAM!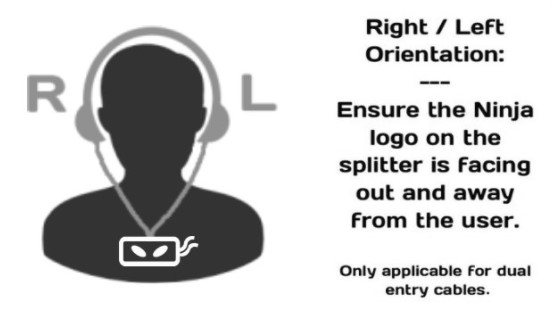 In addition to that little trick, our connectors will either have L/R markings on them directly, or have a piece of black heatshrink marking the Right side.
---
My cable doesn't seem to be working as expected, what do I do?
We are proud of our multiple Quality Control checks throughout our manufacturing process! But you know, sometimes things just happen. Send an email to support@audiophileninja.com. We have a limited 1 year warranty on all of our products, and will be happy to help resolve your issue, or have you send in your cable for a repair or replacement. Returns will not be accepted without a valid RMA, so be sure to contact our support team first. Warranty only applies to the original owner.
Note: While we warrant products from manufacturing defects, this doesn't include damage due to misuse. Obviously if your cat tried to eat your cable for lunch, or if you accidentally ran over it with your car, we will not be responsible.
---
We saw a seller selling these on eBay/Etsy. Do you sell cables on there too? Why is your cable more expensive on eBay/Etsy??
Yes, we have an eBay and Etsy storefront under our audiophileninja seller name. Any other sellers are not us. As for the pricing, eBay and Etsy charge a hefty fee for every transaction, so you will get the best price by ordering directly here through our website and paying directly with PayPal/Credit Card payments.
---
Germany – Verpackungsgesetz (LUCID Packaging Register)
Germany's Packaging Act "VerpackG" imposes requirements on online retailers selling to buyers in Germany. The Packaging Act promotes recycling and reuse of packaging materials (e.g. cardboard boxes, tape, and bubble wrap).
Audiophile Ninja is registered at the Packaging Register of the Stiftung Zentrale Stelle Verpackungsregister (Foundation Central Agency Packaging Register – ZSVR) with registration number DE3123519817707. My Dual System Licensing partner for the collection, sorting & recycling of the packaging is ACTIVATE by RECLAY.
As consumer, please ensure that all received packaging is separated, reused and/or disposed of in the right recycling containers, at home or locally.