Founded in 2020, in a tiny basement workshop, Audiophile Ninja has grown from hacking out a handful of cables on eBay, to selling 300+ product variations globally across 3 sales channels; all while maintaining 5 star rating on Etsy, and 100% positive feedback on eBay. Wow. That was a mouthful.
Origins:
It started years ago when Jeremy Eskritt began making his own headphone cables because he just couldn't find an aftermarket cable that was up to snuff. The cables supplied with his high quality headphones were too long and thin, constantly getting tangled into a horrifying mess spawned by C'thulu itself. And all the aftermarket cables forced a person to debate selling a random body part on the black market, only to pay for a few wires held together by heat shrink. Jeremy needed something else, something better. He started making cables for himself as a personal hobby, with an old soldering iron, on a flimsy table in the corner of his home office.
2015 provided the perfect opportunity to dive deeper into the high-end audio realm; living in Southern California and attending the annual CanJam and LA Audio Shows, meeting with audio experts, asking questions, and continually learning about this eccentric niche market. Over the next few years Jeremy's headphone collection grew, new pieces of gear kept showing up at his door, and his infatuation with the high-end audio hobby became more and more evident. With each new pair of headphones came new cables being designed and hand-made to fit his ever growing personal stash.
All this time, Jeremy had been working in corporate America for over 15 yrs, but had always dreamed of starting his own business. He was driven by solving challenges, creating relationships, and initiating change in the organizations where he worked. The idea was always lingering in the back of his mind; why not tackle these same challenges and push the limits in a business he could create and own.
Taking the Plunge:
Then, in 2018, the perfect opportunity came. Jeremy's wife was presented with an amazing job offer she couldn't refuse, and they moved to Wisconsin. (Yes, that place known for its cheese, Packers, and bitter cold winters, eh!) This was the moment to do something different. The signal fire was lit, and it was time for Jeremy to take the plunge from the corporate world into something something even more scary…. starting his own business.
Over the next year, hundreds of cables were built and tested with various connectors, wires, sheathing, adhesives, and other parts, with the sole purpose of finding the perfect combination for a professional level cable at a price everyone could afford. The goal was to build the cables here in the good ol' US of A, using local and global parts, and build the best no-BS cables at the lowest price we could possibly offer.
By the end of 2019, product designs were set, parts were sourced, manufacturing equipment was purchased, quality controls in place, and the business was setup. It was time.
A little over a year after moving to Wisconsin, Jeremy created Audiophile Ninja in 2020.
Humble Beginnings:
At launch in early 2020, Audiophile Ninja began offering 6 Headphone Varieties, 2 Amp Connector Options, and 1 standard length for a whopping total of 11 varieties of cables. (We'd love to round to an even 12, but sadly the AKG/Beyer headphone is limited to single-ended and can't benefit from the balanced 4-Pin XLR amp connector option.)
The goal was to release a handful of initial products, learn from customer feedback, make necessary improvements, and grow in scale once the products were rock solid; continuous improvement where quality will always be the number one focus. 6 months later, we expanded to over 300+ cable variations for our customers, with more in the works every day.
We live by the standards we create, and will not sell a headphone cable that we will not exclusively use ourselves. All of the photos of our products are taken from our personal headphone equipment, in our own homes. By using our own gear, we can design and build our products better for our customers and continuously improve them over time.
Looking Forward:
We have come a long way in a short period of time, and are always exploring new product options for the future.
Should you have any product suggestions or feedback, please shoot us an email at support@audiophileninja.com. We'd love to hear thoughts and suggestions to how we can grow even further together.
Owner Bio: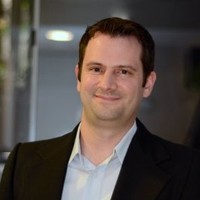 (Obligatory Professional-Looking Photo)
Jeremy Eskritt received a Bachelor's Degree in Computer Science and Business Administration minor from Marquette University in 2005. He is Green Belt certified in Six Sigma, and has held various IT and Operations global leadership roles at Fortune 500 companies, such as GE and Nielsen. Most recently, Jeremy was a Operations Program Director and Integration leader for NeoGenomics, a leading cancer diagnostics company, and was responsible for driving multiple $100M+ business acquisitions as well as executing process improvement initiatives across the entire organization.
Much of that experience has set forth the foundation of Audiophile Ninja's Business Principles.
Besides travelling the world every chance he gets, Jeremy jam packs his free time dabbling in dozens of hobbies across audio (imagine that!), video games (he calls Eorzea, Azeroth, and Runeterra home), motorcycles (love that old 2001 Ducati), home automation technology (Pi anyone?), enjoying wine, beer, and bourbon, and can even be caught dabbling a bit in maple syrup production, beekeeping, and brewing from time to time. To say the least, he's a bit odd and likes to keep things interesting.